Skateparktour.ca
Canada's Skatepark Directory

Skateparktour.ca
Canada's Skatepark Directory
WELCOME!
Skateparktour.ca is the most complete Canadian Skatepark directory featuring virtual tours or slide shows of Alberta, BC, Saskatchewan, Manitoba, and Ontario skateparks, In time, the tour will include all 10 provinces and all parks in any of the territories as well.
Find skateparks using the search box on the right, or either the map or the filtered list below!
WELCOME!
Skateparktour.ca is the most complete Canadian Skatepark directory featuring virtual tours or slide shows of Alberta, BC, Saskatchewan, Manitoba, and Ontario skateparks, In time, the tour will include all 10 provinces and all parks in any of the territories as well.
Find skateparks using the search box, map, or the filtered list below!

2. Find Skateparks Near Me
Tap the target to find skateparks near your current location,
Enter a specific location to see skateparks within the radius you set of that location.
3. Canadian Skatepark Map
Zoom in on the part of Canada that you want to explore the skateparks.
4. Canadian Skatepark List
Filters
Narrow the list by the criteria important to you
Skateparktour.ca has been busy getting the site tuned up and ready for another season in Canada's skateparks!  Some changes have been made to make the site work more efficiently for you when you look for skateparks, and big plans are in place to grow the number of skateparks on the site. Here are some of the changes made so far:
Improved Search
Improved site search box – If you know the name of the park, type it in and the link will appear right away just below the search box
Proximity – Click on the target to see what skateparks are ithinthe distance you choose, or type the name of a town and see what skateparks are near by
Map – zoomin on an area or click on clusters to explore skateparks in a geographic region
Filtered List – narrow the list down by choosing criteria for the type of skatepark you want to find
WebVR Enabled Virtual Tours
You can now have an immersive VR experience directly from a web page without the need for an app. Most of the current VR headsets can display WebVR content. All you need to take advantage of this feature is a compatible headset and a compatiblem browser on your device.  You can find an up-to-date list of browsers at WebVR.info
New Skateparks Added & Coming
Added Recently
Skatepark Photo sessions being planned
Skateparktour.ca will be taking some road trips this season to take photos for virtual tours of more skateparks. Planned trips currently include:
Southern Alberta

Lethbridge, SLP and the new skatepark
Taber

Greater Edmonton

Edmonton skateparks
As many Edmonton area skateparks as possible

BC Lower Mainland

Surrey, New West, Coquitlam, Port Coquitlam, Burnaby
Vancouver, North Vancouver, West Vancouver

Vancouver Island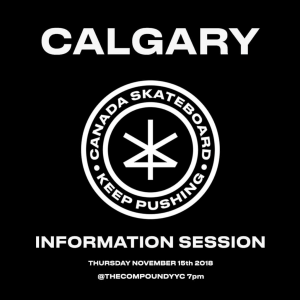 This past week Canada Skateboard with CASE hosted an information session at The Compound Indoor Skatepark in Calgary. About 30 skaters listened to Vice President Kyle Dion tell the Canada Skateboard story and share plans for skateboarding in Canada.
With skateboarding becoming an Olympic sport (we'll talk about THAT word later!), skaters needed to form a national governing body. The governing body will decide who gets to skate in the Olympics, and how to develop up and coming skaters for future games. Funding for this work comes from Sport Canada but donations and sponsorships will also make up part of the Canada Skateboard budget
Every Olympic country needs a governing body for skateboarding. In some countries there are battles between skaters and other sports organizations to be the skateboarding governing body. If the skaters that founded Canada Skateboard hadn't stepped forward, decisions about who skates for Canada and how they are chosen could have been made by people who have no clue about skateboarding or skate culture.
Who Is Canada Skateboard?
So, who are the founding board members for Canada Skateboard? They are all prominent members of the skate community who have passionately lived the skateboard lifestyle for most of their lives. They are:
Ben Stoddard – President

Jay Balmer – Treasurer
Kyle Dion – Vice-President
Monty Little – Secretary
Rob"Sluggo" Boyce – Head Coach
Josh Clark – Board member
Mike Prangnell – Board member
Bob Lasalle – Board member
Annie Guglia – Board member
Kevin Harris – Board member
Jim Barnum – Board member
Brent Coyne – Board member
This board will manage Canada Skateboard until board elections can be held.
Priorities
Many skateboarders see skateboarding as a lifestyle, not a sport, and don't think skateboarding should be in the Olympics. That ship has sailed and no matter what the skate community thinks, someone will win Olympic medals in skateboarding at the Olympics. Skateboard Canada was formed to make sure that decisions about Canada's skate team would be made by Canadian skaters. Who knows better than skaters, who should be considered for the team spots and the money that goes with it?
While the Olympics is the reason Canada Skateboarding was formed, the games will not be the sole reason the organization exists.  The Canada Skateboarding mantra speaks volumes about the direction they want to take:
Keep Pushing

Skating is everything. It is an artform, a lifestyle and a team activity on an individual level. It's where you make your own rules, experiment with ideas, and push your limits for nobody's approval but your own. It's a community where you can be yourself, clear your mind, and connect with one another – no matter how shy or wild you are. Skating is where you push yourself to set goals and to stick to them, building a mindset that can serve you throughout life as you just have to keep pushing. #keeppushing
Building skateboarding will be the most important priority for Canada Skateboarding. They will work with local skate organizations to grow skateboarding from the ground up while providing opportunities for those who want to compete at the Olympics for Canada.
Canada Skateboard  will have more information available in the new year, including a website. If you have questions about Olympic skateboarding or Canada Skateboard programs, please be patient. Plans are being developed in both in Canada and at the international level, and Canada Skateboard will have more answers to share in 2019.
Canada Skateboard will be a great addition to the Canadian skate scene. They are laying the foundation for an organization that will grow skateboarding in Canada. Skaters that want to compete internationally will have amazing resources and opportunities to help reach their dreams, but the focus of Canada Skateboard will be on grass roots skateboarding. Skaters everywhere should be sure to join Canada Skateboard when they launch in 2019.