Skateparktour.ca
Canadian Skatepark Directory

Skateparktour.ca
Canadian Skatepark Directory
1. Find Skateparks Near Me
Tap the target to find a skatepark near your current location,
Enter a specific location to see skateparks within the radius you set of that location.
2. Search Skateparktour.ca
Skateparktour.ca
240
Canadian Skateparks!
Welcome!
Skateparktour.ca is a Canadian Skatepark directory focused on BC, Alberta, and Saskatchewan. If you're looking for a skatepark in Eastern Canada, check out Spott Dreams of Skateparks

3. Canadian Skatepark Map
Zoom in on the part of Canada that you want to explore the skateparks, or narrow the list using your favourite criteria in the skatepark list (scroll down!).
4. Canadian Skatepark List
Filters
Narrow the skatepark list by the criteria important to you
Here is a selection from the Skateparktour.ca YouTube channel.  Visit the channel to check out
all of the skatepark related videos that Skateeparktour.ca has made!
Skatepark Etiquette Reminders!
This video from the 100% SKate Club is a great reminder of the skatepark manners that help make skateparks great places to have fun riding.
Skateparktour.ca Search Tips:
Here are some tips on how to use Skateparktour.ca to find skateparks where you live and travel!
At log last the Localz skatepark tour video of the awesome Leduc skatepark is complete! join Leduc Local Joe Weidmanas he shows you all of the best features of this outstanding skatepark, located just south of Edmonton and not far from the Queen Elizabeth 2 highway. Definitely worth the stop if you are driving Highway 2
Skaters 14-17 Years Old Needed for Online Interview Study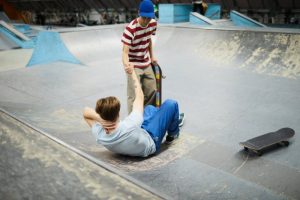 A researcher from the University of Guelph wants to learn about skateboarders' love for skateboarding, even though they have experienced injuries from the occasional slams that come with being a skater.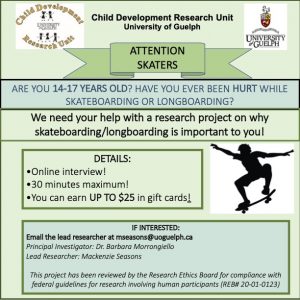 Specifically, they need:
PASSIONATE skateboarders
Aged 14-17
Have been injured skateboarding
Willing to explain and discuss why skateboarding is important to them in a roughly 30-minute video interview
Volunteerskaters who do the interview will receive a gift card as thanks for sharing their time and insights for the study.
If you qualify and are interested or if you'd like more information, please contact the lead researcher Mackensie Seasons by email.
YOUR Feedback needed for future skate & bike parks in Glengarry District Park!
Glengarry Park, on 135 Ave. between 85 St. and 90 St., has had a Skateboard Park and a Mountain Bike Skills Park in its concept plan since 2018.
The City is creating preliminary and detailed design plans for skate and bike parks. The City has not yet approved funds for construction. The parks will be built in the future when funds are available. Until then, the project team wants to design parks that will be popular with park users, and have the plans ready to go when funding is approved.
Online Engagement Opportunities
To collect user opinions on designs for the skate and bike parks, the City is hosting online engagement opportunities from December 1 – 14, 2020.
To provide feedback, please attend 1 or both of the online learning sessions then complete the online survey, which is available from December 2-14, 2020.
Skate Park Online learning session   December 2, 2020 | 4:30 – 5:30 p.m.
Bike Park Online learning session   December 3, 2020 | 4:30 – 5:30 p.m.
Online survey    Available December 2 – 14, 2020
Register to attend the learning session(s) relevant to you on the Parks & Recreation project webpage after which you can provide your opinions in the survey.
The feedback that the City receives will be used along with other factors, to create the final design for bike and skateparks as part of the Glengarry District Park Renewal.
Please share this information with friends and others who would use either park