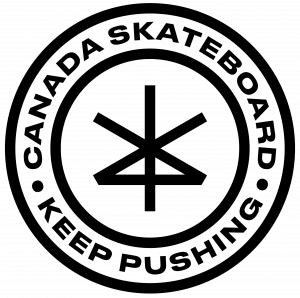 Skateparktour.ca is excited to announce a brand new partnership with Canada Skateboard!! We will work together to include ALL Canadian skateparks on Skateparktour.ca!  Canada Skateboard and Skateparktour realize how useful a complete skatepark directory will be and are working together to make it happen!
This partnership will be good for everyone who uses Canadian skateparks, not only skateboarders.  If you skate, BMX, scooter, inline skate, roller skate, or unicycle you can use Skateparktour.ca to find skateparks, and you can submit skateparks to be added. The more skateparks on the list, the more we all benefit.
We need EVERYONE who uses skateparks to tell us about skateparks missing from Skateparktour.ca!  We want EVERY skatepark, large, small, indoor or outdoor. Use our easy to complete form to submit a skatepark. You can submit as many parks as you can visit, there is no limit!
To help get the wheels rolling about this project, Canada Skateboard is offering prizes for contributions made before August 31st! Every valid skatepark submission gives you a chance to win one of three prizes. You could win a Canada Skateboard coffee book, a Canada Skateboard deck or a Canada Skateboard Hydroflask.
So, let the skatepark blizzard begin! If your skatepark is not already on skateparktour.ca, submit it today!!!