Skateparktour.ca
Canadian Skatepark Directory

Skateparktour.ca
Canadian Skatepark Directory
1. Find Skateparks Near Me
Tap the target to find a skatepark near your current location,
Enter a specific location to see skateparks within the radius you set of that location.
2. Search Skateparktour.ca
Skateparktour.ca
242
Canadian Skateparks!
Welcome!
Skateparktour.ca is a Canadian Skatepark directory focused on BC, Alberta, and Saskatchewan. If you're looking for a skatepark in Eastern Canada, check out Spott Dreams of Skateparks

3. Canadian Skatepark Map
Zoom in on the part of Canada that you want to explore the skateparks, or narrow the list using your favourite criteria in the skatepark list (scroll down!).
4. Canadian Skatepark List
Filters
Narrow the skatepark list by the criteria important to you
Here is a selection from the Skateparktour.ca YouTube channel.  Visit the channel to check out
all of the skatepark related videos that Skateeparktour.ca has made!
Skatepark Etiquette Reminders!
This video from the 100% SKate Club is a great reminder of the skatepark manners that help make skateparks great places to have fun riding.
Skateparktour.ca Search Tips:
Here are some tips on how to use Skateparktour.ca to find skateparks where you live and travel!
5th Annual Ghost Ryders  Skatepark Competition Is a GO!!
After a 2 year COVID hiatus, The Delburne Skatepark will once again play host to BMXers, scooter riders, and skateboarders from central Alberta schools for an amazing, unique, and fun celebration of action sports.
Hosted by Delburne Centralized School, the competition is for any student currently in grades 7-12.  This year because of the 2-year break, there is a special category for alumni. This category is for any past participants in the Delburne comp who graduated in 2020 or 2021 and missed their last chance to compete.
The Delburne skatepark and this competition are both the result of an incredible relationship between the youth of Delburne, their school, and their community. Skateparktour.ca told this story in a 2017 post and video.
Students from ANY school or school district are welcome to come to Delburne and participate in the competition. Because it is a school-based event on a school day, schools will require certain paperwork to be completed. For more information on competing (or sponsoring!) contact @delburne_ghost_ryders on Instagram or email: sbanks at cesd73.ca
At log last the Localz skatepark tour video of the awesome Leduc skatepark is complete! join Leduc Local Joe Weidmanas he shows you all of the best features of this outstanding skatepark, located just south of Edmonton and not far from the Queen Elizabeth 2 highway. Definitely worth the stop if you are driving Highway 2
Skaters 14-17 Years Old Needed for Online Interview Study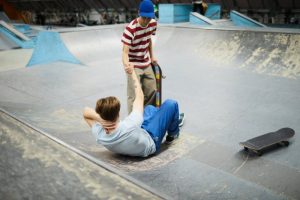 A researcher from the University of Guelph wants to learn about skateboarders' love for skateboarding, even though they have experienced injuries from the occasional slams that come with being a skater.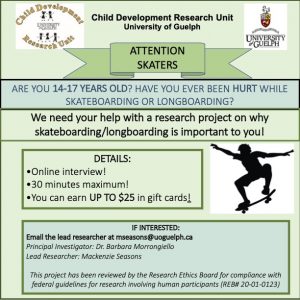 Specifically, they need:
PASSIONATE skateboarders
Aged 14-17
Have been injured skateboarding
Willing to explain and discuss why skateboarding is important to them in a roughly 30-minute video interview
Volunteerskaters who do the interview will receive a gift card as thanks for sharing their time and insights for the study.
If you qualify and are interested or if you'd like more information, please contact the lead researcher Mackensie Seasons by email.